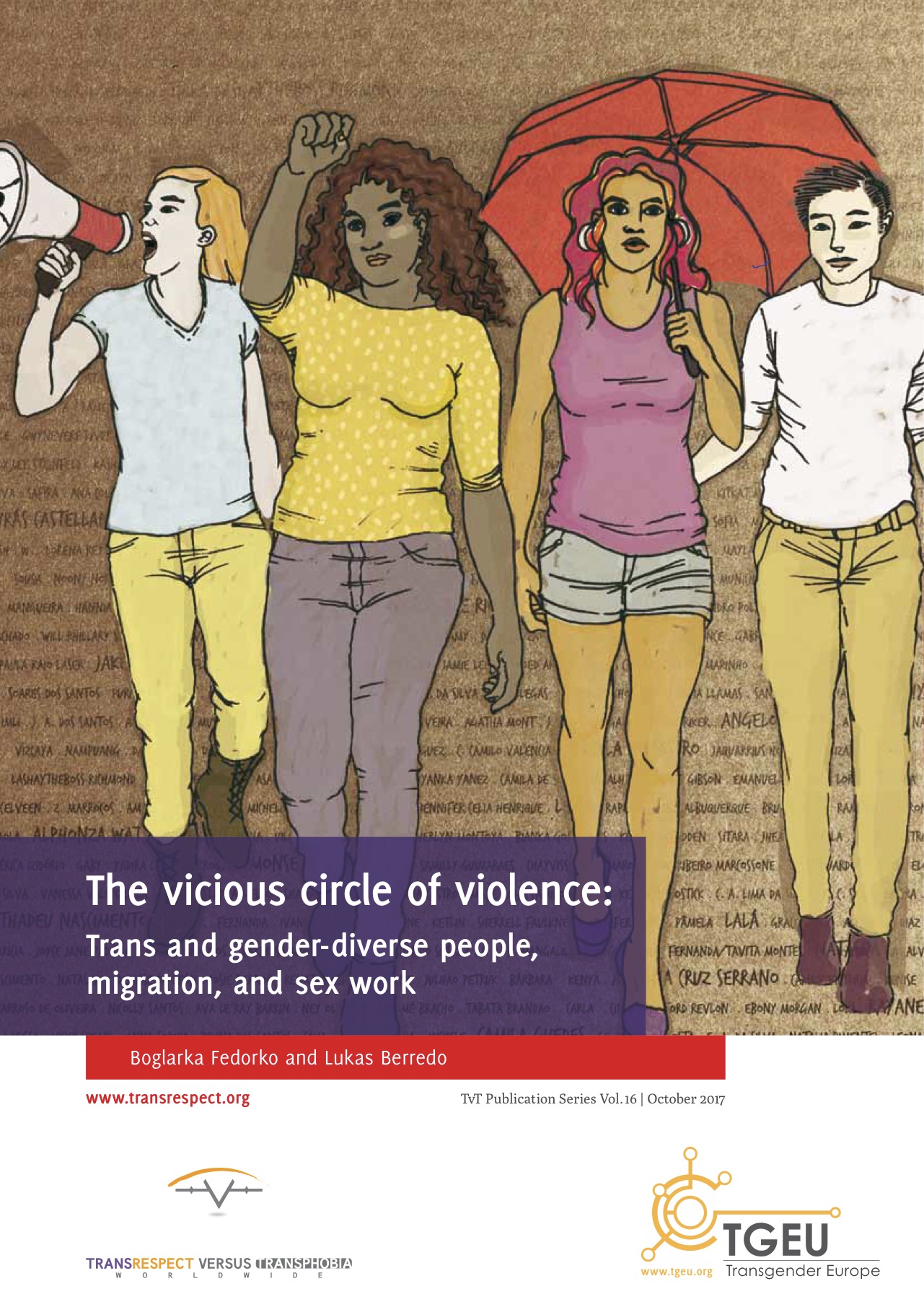 On occasion of the International Day to End Violence against Sex Workers, Transgender Europe (TGEU) publishes the brief report The vicious circle of violence: Trans and gender-diverse people, migration, and sex work. The report focuses on trans and gender-diverse sex workers, who make up 62 per cent of the reported killing of trans and gender-diverse people whose profession is known.[1]
In Europe, Turkey has seen 44 trans women, the majority sex workers, murdered in the last almost nine years. At the same time, in France, Italy, Portugal, and Spain, the countries to which most trans and gender-diverse people from Africa and Central and South America migrate, 69% of the reported murder victims were migrants, among them many who were selling sex.
The high representation of trans and gender-diverse people in sex work around the world undeniably results from widespread structural, institutional, and interpersonal violence experienced by them from early in their life onwards with regards to accessing education and alternative employment. Consequently, many choose sex work from the very limited options available to them and, subsequently, are exposed to racial, gender-based, class-based, and anti-migrant exclusion and violence, as well as clandestine and dangerous working conditions, as they are pushed into criminalised sex industries.
The report aims at contextualising the Trans Murder Monitoring (TMM)[2] data in light of crucial issues impacting trans sex workers across the world: social exclusion, the many faces of criminalisation, migration, health, and intersectional violence, as well as their interconnectedness. Furthermore, it builds on community-based violence documentation and research carried out in recent years in local contexts and on an international level, including TGEU's Transrespect versus Transphobia Worldwide (TvT)[3] and ProTrans[4] projects.
Lastly, the report proposes recommendations to decision and policy makers, following key global and regional standards to protect trans people, sex workers, and trans sex workers from exclusion and violence, including an urgent call for decriminalisation of sex work, same-sex relationships, non-normative gender identities and/or expressions, drug use, HIV exposure, non-disclosure, and transmission, and bodily modification procedures and treatments, as well as criminal justice, migration, and healthcare reforms.
The report is available in English, Spanish, Russian, and Portuguese.
[1] Fedorko, Boglarka and Lukas Berredo (2017). The vicious circle of violence: Trans and gender-diverse people, migration, and sex work. TGEU.
[2] See more about the TMM at http://transrespect.org/en/research/trans-murder-monitoring
[3] See more information about TGEU's TvT project can be found at www.transrespect.org
[4] TGEU's ProTrans project was created as a collaborative endeavour with LGBT and trans groups and NGOs to monitor violence and human rights violations against trans people in Central and Eastern Europe and Central Asia. See more about the ProTrans project on https://tgeu.org/pro-trans/