In order to provide useful tools and materials for advocacy work for trans and human-right activists worldwide, in 2010, Transgender Europe initiated the TvT Publication Series with the aim to translate important human-rights documents and publish TvT research reports in various languages.
Download the TvT publication series below:
Volume 15 – 2016
Volume 15: Informe anual del TMM 2016: 2.190 asesinatos son sólo la punta del iceberg – una introducción al proyecto Observatorio de Personas Trans Asesinadas.
Carsten Balzer/Carla LaGata and Lukas Berredo, TGEU, October 2016
(Spanish version, original in English)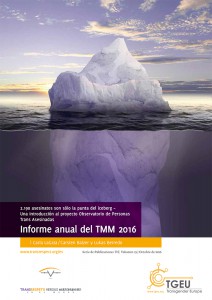 Volume 14 – 2016
Volume 14: TMM Annual Report 2016: 2,190 murders are only the tip of the iceberg – An introduction to the Trans Murder Monitoring project.
Carsten Balzer/Carla LaGata and Lukas Berredo, TGEU, October 2016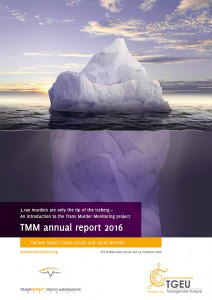 Volume 13 – 2015
Volume 13: Transfobiye Karşı Trans-Saygı: Türkiye'de yaşayan trans bireylerin toplumsal Deneyimleri:
Kemal Ördek ve Carsten Balzer/Carla LaGata, Kırmızı Şemsiye ve Transgender Europe, Kasim 2015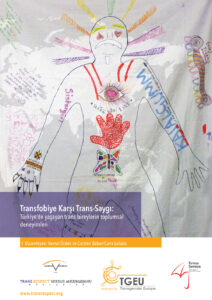 Volume 12 – 2015
Volume 12: กำรเคำรพคนข้ำมเพศเปรียบเทียบกับกำรเกลียดกลัวคนข้ำมเพศ ประสบกำรณ์ทำงสังคมของคนข้ำมเพศในประเทศไทย
เรียบเรียงโดย: รัตนวัฒน์ จันทร์อำนวยสุข และ and Carsten Balzer/Carla LaGata, Thai Transgender Alliance and TGEU, October 2015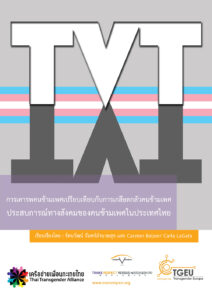 Volume 11 – 2015
Volume 11: Transrespect versus Transphobia: The Experiences of trans people in the Philippines
Charlese Saballe and Carsten Balzer/Carla LaGata (editors), STRAP and TGEU, September 2015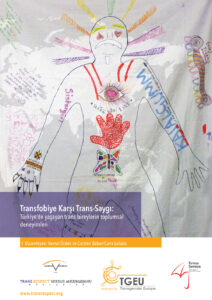 Volume 10 – 2015
Volume 10: Transrespect versus Transphobia: The Experiences of Leitis in the Kingdom of Tonga
Joleen Mataele and Carsten Balzer/Carla LaGata (editors), TLA and TGEU, September 2015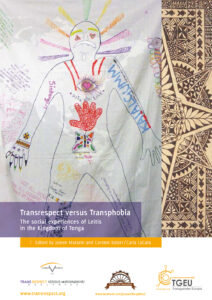 Volume 9 – 2015
Volume 9: Transrespect versus Transphobia: The Experiences of Trans and Gender-diverse People in Colombia, India, the Philippines, Serbia, Thailand, Tonga, Turkey and Venezuela
Carsten Balzer/Carla LaGata and Jan Simon Hutta (editors), TGEU, September 2015
Volume 8 – 2013
Volume 8: KÜRESEL "TRANSFOBİYE KARŞI TRANS-SAYGI" PROJESİ Toplumsal Cinsiyet Farklılığına Sahip Bireylerin/Trans Bireylerin İnsan Hakları Durumunun Karşılaştırmalı İncele
Carsten Balzer ve Jan Simon Hutta (Tamara Adrian, Peter Hyndal ve Susan Stryker'in katkılarıyla…), TGEU, Kasim 2012
(Turkish version, original in English)
PDF HUKUK VE SAĞLIK HİZMETLERİ DURUMU AÇILARINDAN HARİTALAMA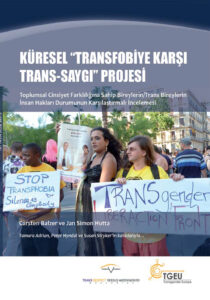 Volume 7 – 2012
TRANSRESPETO VERSUS TRANSFOBIA EN EL MUNDO – Un Estudio Comparativo de la Situación de los Derechos Humanos de las personas Trans
Carsten Balzer and Jan Simon Hutta (with Tamara Adrián, Peter Hyndal and Susan Stryker), TGEU, November 2012
(Spanish version, original in English)
PDF Mapeo de la Situación Legal y de Atención Sanitaria del informe TvT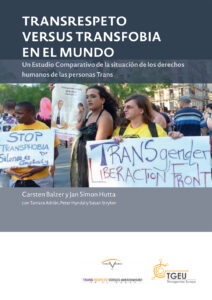 Volume 6 – 2012
TRANSRESPECT VERSUS TRANSPHOBIA WORLDWIDE – A Comparative Review of the Human-rights Situation of Gender-variant/Trans People
Carsten Balzer and Jan Simon Hutta (with Tamara Adrián, Peter Hyndal and Susan Stryker), TGEU, November 2012
(English version)
PDF TvT Report Legal and Health-Care Mapping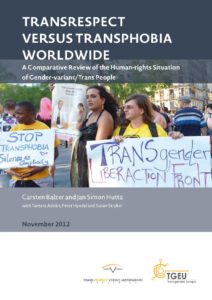 Volume 5 – 2011
Direitos Humanos e Identidade de Gênero – Relatório Temático
Issue Paper "Humans Rights and Gender Identity," Thomas Hammarberg, Comissário de Direitos Humanos do Conselho da Europa – Série de Publicações do TvT, Volume 5
(Portuguese translation, original in English)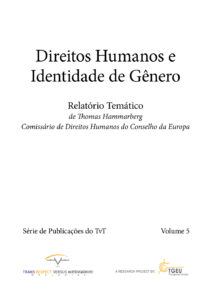 Volume 4 – 2011
I Diritti Umani e l'Identità di Genere – Issue Paper
Issue Paper "Humans Rights and Gender Identity," Thomas Hammarberg, Commissario del Consiglio d'Europa per i Diritti Umani – Pubblicazione per la serie TvT, Volume 4
(Italian translation, original in English)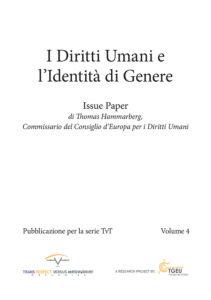 Volume 3 – 2011
Tożsamość płciowa a prawa człowieka – Dokument tematyczny
Issue Paper "Humans Rights and Gender Identity," Thomasa Hammarberga, Komisarza Praw Człowieka Rady Europy – Publikacje projektu TvT, tom 3
(Polish translation, original in English)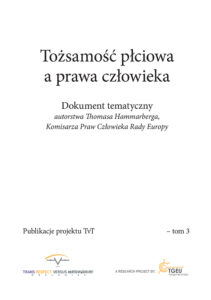 Volume 2 – 2010
Menschenrechte und Geschlechtsidentität – Themenpapier
Issue Paper "Humans Rights and Gender Identity," Thomas Hammarberg, Kommissar für Menschenrechte des Europarats – TvT Veröffentlichungsreihe, Band 2
(German translation, original in English)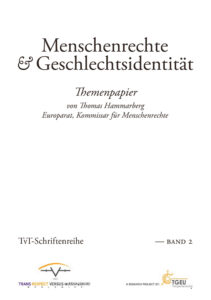 Volume 1 – 2010
Derechos humanos e identidad de género – Informe temático
Issue Paper "Humans Rights and Gender Identity," Thomas Hammarberg, Comisario de Derechos Humanos del Consejo de Europa – Serie de publicaciones de TvT, volumen 1
(Spanish translation, original in English)